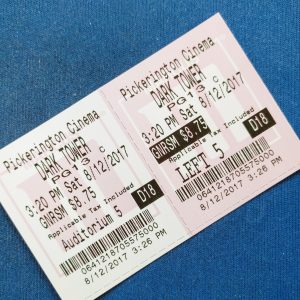 Now available as a Patreon-only audio. Become a patron at https://www.patreon.com/twoguysdarktower.
In this episode of Two Guys to the Dark Tower Came, we discuss the major motion picture, The Dark Tower.
Introduction (0:00)

Initial Thoughts (0:46)

Sean identifies a major failing (4:58)

Jay is upset about the opening line from the book (6:15)

No emotional connections in the movie (9:25)

Movie Jake doesn't work (10:01)

Matthew McConaughey (alright, alright, alright) (11:59)

Some good stuff (14:00)

Who is this movie for (16:14)

Where are Eddie and Susannah (18:25)

What's next (18:55)

The ending of the movie (21:16)

Outro (24:42)
For more information about the show, check us out at twoguystothedarktowercame.com. You can also email us at twoguysdarktower@gmail.com. Find us on Facebook at https://www.facebook.com/2guysdarktower/ and our and our Twitter feed is @2guysdarktower.
Intro and outro music is Western Cowboys Logo by Shorties.